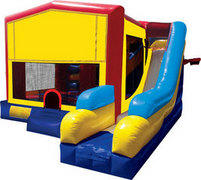 Mod Combo C7

Setup Area: 24'L x 23'W x 17'H
Let's Jump's Module Combo C7 is packing a punch offering a 5-station challenge arena. Warm up with some jumps, sharpen coordination with some slam dunks, outmaneuver 5 obstacles, scale to the top, take the vertical plunge and repeat!
Extremely versatile, the inter-changeable art panels adds 'play value'! Accepts both medium and large art panels.
Set up area: 24'L x 23'W x 17'H
Click here to see our great selection of custom art panels.